Welcome To Cavan Crystal Hotel
4 Star Hotel in Co. Cavan
A MESSAGE FROM THE CAVAN CRYSTAL HOTEL
 Following the latest government announcement, it is with a very heavy heart that we must temporarily close our doors.  
We would like to thank you, our valued guests, for all the support you have given us since we reopened our doors and to our amazing team for all their hard work and dedication over the last number of months.
 It is our priority at present for our reservations and events team to contact all guests who have bookings during this period and to assist them with rescheduling. While we go through this process we thank you kindly for your patience.   If you have any queries please do not hesitate in contacting us by phone or you can email us at reservations@cavancrystalhotel.com.  During this time our online bookings will also remain open at www.cavancrystalhotel.com. 
 Once it is safe to do so we very much look forward to welcoming you back to Cavan Crystal Hotel. In the meantime, have a happy and peaceful Christmas, stay safe and take good care of each other.
Michael Hanly - General Manager
Stay with Confidence and Book your Staycation with Flexible Cancellation. Learn More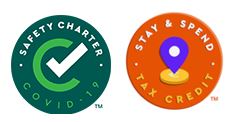 Cavan Crystal Hotel are delighted to be taking part in the "Stay and Spend" Scheme, which means guests who stay between October 2020 to March 2021 will be entitled to a Tax Rebate of up to 20pc of your spend.
Contemporary Luxury, Timeless Quality
Cavan Crystal Hotel provides a 4 star hotel in Cavan town. One of the finest hotels in Cavan, this Cavan hotel is very much contemporary at first glance, but traditional in its sense of warmth and welcome.
Why book Cavan Crystal Hotel?
- Located 5 minutes from Cavan Town Centre
- Only 60 minutes from Dublin via the M3 Motorway
- Complimentary use of Award Winning Zest Health & Fitness Club which includes
18m Swimming Pool, Steam Room, Jacuzzi, Sauna and fully equipped Gymnasium
- Utopia Health & Beauty Clinic and Evita's Hair Salon located onsite
- Newly Renovated Gardens & Children's Playground 
- Complimentary Wi-Fi and on-site parking
- 85 beautifully appointed bedrooms with a number of luxurious suites
- Wheelchair accessibility throughout entire hotel. Wheelchair adapted rooms available on request
- Extensive conference & banqueting facilities
Book your break away today at one of the most luxurious hotels in Cavan Town.
For more information contact us on + 353 49 4360600 or info@cavancrystalhotel.com
Special Offers
A selection of our Special Offers
Find out more
A selection of our services